Cardiology Division Campuses
Mount Sinai Beth Israel
The Division of Cardiology is committed to the expert diagnosis and treatment of cardiovascular disease, by teaching, and by research and by striving to deliver the highest quality of cardiac care possible. It is our mission to treat everyone with compassion, honesty, and integrity and our goal is to provide the most advanced and accurate diagnostic and treatment techniques, as we continue to learn through research and academic initiatives.
The division's nationally and internally recognized faculty delivers clinical care at Mount Sinai Beth Israel Heart Institute and the diverse patient population presents us with a large spectrum of pathology and challenging cases and this environment provides a unique opportunity for performing clinical research and for training the next generation of cardiologists through our multiple fellowship training programs.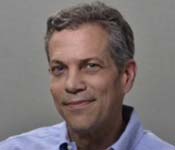 John Fox, MD
Chief, Cardiology Division
Professor of Medicine


The Mount Sinai Hospital
The premier Division of Cardiology based at The Mount Sinai Hospital consistently ranks as one of the top in the country for its leading cardiology services by U.S. News & World Report. 2015 marks the 100th anniversary of the practice of cardiology at The Mount Sinai Hospital. Within the newly named Mount Sinai Health System, cardiac care in the Mount Sinai Health System has expanded, but the mission remains the same: to improve the heart health of patients locally and globally, with dedication to the prevention, management, and eradication of cardiovascular diseases. The Division of Cardiology continues to pursue excellence in patient care, offering innovative prevention and treatments, pioneering research and clinical trials, and training future leading cardiologists by its world-leading experts.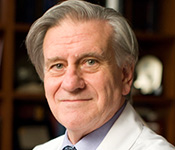 Valentin Fuster, MD, PhD
Chief, Division of Cardiology
Richard Gorlin, MD/Heart Research Foundation Professor
Director of Mount Sinai Heart, the Zena and Michael A. Wiener Cardiovascular
Institute, and the Marie-Josée and Henry R. Kravis Center for Cardiovascular Health
Physician-in-Chief of The Mount Sinai Hospital
Mount Sinai Morningside and Mount Sinai West
The opening of the Al-Sabah Arrhythmia Institute allowed Mount Sinai Morningside and Mount Sinai West to consolidate all the patient care into one state-of-the-art facility. The Institute is comprised of three electrophysiology laboratories for performing catheter-based procedures, device implantations, and diagnostic studies, a research laboratory for conducting both clinical and basic research on arrhythmia mechanisms and treatments, and an education center for training advanced fellows.
The mission is to provide outstanding arrhythmia care, offer physician and patient education and train tomorrow's specialists, while conducting ongoing research to clarify the mechanisms of cardiac arrhythmias and develop improved methods for diagnosis and treatment. With a diverse team of world-renowned physicians and researchers specializing in arrhythmias, the Institute continues to attract and retain leaders in the field to assure excellent patient care and groundbreaking research.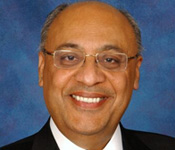 Jagat Narula, MD, PhD
Chief, Division of Cardiology
Philip J. and Harriet L. Goodhart Professor of Medicine
Director of Cardiovascular Imaging, Mount Sinai Health System
Associate Dean for Global Affairs