The Division of Colorectal Surgery at the Mount Sinai Health System
Mount Sinai has a long and distinguished history in the surgical treatment of gastrointestinal disorders. At the beginning of the 20th century Alexis Moskovitz described repair of rectal prolapse, and in 1910 Howard Lilienthal performed the first successful colectomy for colitis in the US while at Mount Sinai. In 1932, Leon Ginzburg and colleagues, working in a GI research lab at Mount Sinai, recognized and described what is now known as Crohn's disease. Irwin Gelernt popularized the use of the continent ileostomy (Kock pouch), which he brought to the US from Sweden. As a result of these accomplishments, Mount Sinai is known as a world leader in the treatment of inflammatory bowel disease. In close collaboration with a world class Gastroenterology Department, the Mount Sinai IBD center is one of the largest IBD referral centers in the tristate area. Our surgeons perform 30-40 IPAA procedures, 90-100 ileocolic resections, and more than 100 additional intestinal resections for Crohn's disease in adults and children every year.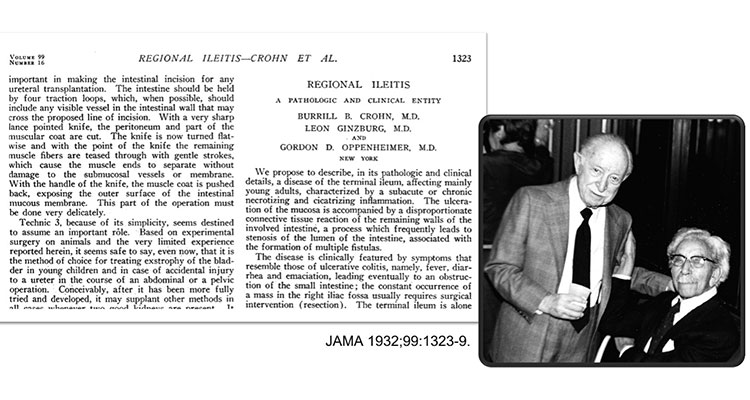 The Mount Sinai Hospital System (MSHS) includes 17 full-time colorectal surgery faculty serving a very culturally and racially diverse population across seven facilities throughout Manhattan, Brooklyn, Queens and Long Island (The Mount Sinai Hospital, Mount Sinai West, Mount Sinai Morningside, Mount Sinai Beth Israel, Mount Sinai Brooklyn, Mount Sinai Queens, and Mount Sinai South Nassau). Dr. Patricia Sylla serves as System Chief of the Colorectal Surgery Division, along with Site Chiefs Dr. Alex (Sanghyun) Kim at Mount Sinai Beth Israel and Mount Sinai Morningside, Dr. David Chessin at Mount Sinai West, and Dr. Dean Pappas at Mount Sinai South Nassau.
MSHS is a high-volume cancer center with approximately 50-60 operative rectal cancer cases a year. In collaboration with the NCI-designated Tisch Cancer Center, our surgeons participate in a weekly multidisciplinary colorectal cancer tumor board. A transanal TME program was established in 2015, with Mount Sinai serving as the coordinating center for the North American phase II taTME trial for rectal cancer.
Consistent with its long history of early adoption of minimally invasive techniques, our surgeons have incorporated robotics, intracorporeal anastomoses, and transanal endoscopic and transanal extraction strategies into their minimally invasive surgery practices. Mount Sinai Health System is also a leader in pelvic floor dysfunction, with Dr. Alex Ky performing the first Sacral Neurostimulator implantation in New York City.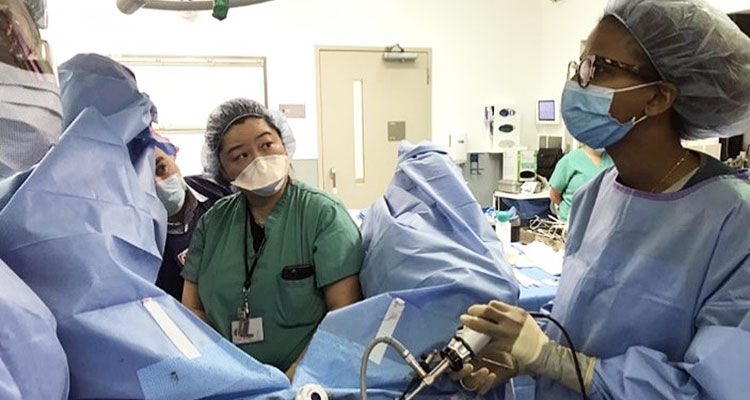 History of the Colorectal Surgery Fellowship at Mount Sinai
The Mount Sinai Colorectal Fellowship Program was established in 1998 by Dr. Randy Steinhagen who served as Program Director until 2021. Many leaders in American colorectal surgery have either completed their general surgery residency or colorectal surgery fellowship at Mount Sinai, including: Drs. Neil Hyman, Phil Fleshner, Brooke Gurland, Alex Ky, Marty Weiser, Alex Kim, Alessandro Fichera, Pat Sylla, Sergey Khaitov, Dan Popowich, and Sam Eisenstein. Approximately fifty percent of our graduating colorectal fellows have gone on to careers in academic practice and fifty percent have gone into private practice.
Meanwhile across Central Park, a separate Colorectal Fellowship Program was established at St. Luke's-Roosevelt Hospital, which was originally affiliated with Columbia University. Established in 1989, this was the oldest colorectal fellowship in New York City, training one colorectal fellow per year. With the merger of Continuum Health Partners and Mount Sinai Health System in 2014, the two training programs started an educational exchange program with a combined curriculum. In August 2021, the two fellowship programs officially merged to become the Icahn School of Medicine at Mount Sinai Colon and Rectal Surgery Fellowship Program.
Our program currently trains two ACGME approved fellows every year. The fellows rotate at four hospitals within the Mount Sinai Health System, allowing them to have a diverse and well-rounded experience, continuing the Mount Sinai tradition of educating leaders in the field of colon and rectal surgery. Dr. Nipa Gandhi, who served as the Program Director of the St. Luke's-Roosevelt Colorectal Fellowship Program for 10 years, is the Fellowship Program Director of our merged program, with Dr. Randy Steinhagen and Dr. Pat Sylla serving as Associate Program Directors. Dr. Alex (Sanghyun) Kim serves as the Robotic Training Director for the Fellowship.
Educational Sites
Mount Sinai Hospital was established in 1855 and moved to its current location on 5th Avenue on the eastside of Manhattan in 1904. It has been affiliated with the Icahn School of Medicine since 1968. The Mount Sinai Hospital is currently an 1,134-bed tertiary care center serving the diverse population of the Upper East Side and East Harlem. The fellows will be exposed to complex colorectal cases using the latest surgical innovations at this site. The fellows will also have access to a state-of-the art Simulation Center with robotic and high-definition laparoscopic stations that allow users to recreate nearly any operative scenario.
Formerly known as Roosevelt Hospital, Mount Sinai West was established in 1871 by a member of the prominent Roosevelt family, James H. Roosevelt. Notable staff at Roosevelt Hospital include William Halsted and Charles McBurney. Mount Sinai West is currently a 505-bed tertiary care center that serves patients located in Midtown and the Upper West Side. In addition to having a robust operative experience, the fellows will be involved in endoscopy and pelvic floor testing at this site. A robotic and endoscopic simulator is also available for the fellows' use.
Formerly known as St. Luke's Hospital, Mount Sinai Morningside was established in 1847 by William Muhlenberg, an Episcopal pastor. It was previously affiliated with a Women's Hospital and nursing school. Currently, Mount Sinai Morningside is a 495-bed Level 2 trauma center proving care to patients in West Harlem and Morningside Heights. The fellows will visit this site for index colorectal cases with a focus on robotic surgery.
Mount Sinai South Nassau is the Long Island flagship hospital for the Mount Sinai Health System, providing state of the art care in areas such as cardiac, oncologic, orthopedic, and emergency services on the South Shore of Nassau County, in addition to colorectal care using minimally invasive robotic and laparoscopic surgery. Colon and Rectal Surgical Specialists of New York has served the communities of Long Island and Queens to provide complete colon and rectal surgical care since 2002. This site rotation provides fellows an opportunity to learn in a large private, community-based colorectal surgery practice environment with five board-certified colon and rectal surgeons. The office setting provides exposure to a newly-accredited office-based surgery suite, anorectal physiology, and office evaluation, management, and treatment of colon and rectal disorders. The endoscopy center provides a high-volume colonoscopy experience, and the hospital setting provides training in traditional and minimally invasive approaches for the entire spectrum of colon and rectal disorders.
Faculty
Randolph Steinhagen, MD
Patricia Sylla, MD
Nipa Gandhi, MD
Evan Bryan Buckingham, MD
Alexander Bulanov, DO
David Chessin, MD
Carl Dickler, MD
Sergey Khaitov, MD
Sue Hahn, MD
Alex Kim, MD
Alex Ky, MD
Tianyi Lu, MD
Mala Balakumar, MD
Frank Caliendo, MD
Dean Pappas, MD
Cesar Sanz, MD
Sarah Bibi Soleh, MD
Former Fellows
Mount Sinai Hospital


Adam Shellito (Harbor-UCLA) 2022-2023: Ventura County Medical Center
Evan Bryan Buckingham 2021-2022: Mount Sinai South Nassau
Raphael Byrne (OHSU) 2020-2021: Private Practice, Corning, NY
Carl Dickler (Stony Brook) 2019-2020: Mount Sinai West/Morningside
Robert Goldstone (MGH) 2018- 2019: MGH at Newton Wellesley Hospital
Blake Read (Stanford) 2017-2018: Palo Alto Medical Group
Ahmed Al-Khamis (McGill) 2016-2017: Kuwait
Amanda Feigel (Yale) 2015-2016: San Diego Naval Hospital > Tufts Medical Center
Joe Bornstein (MGH) 2014-2015: Providence Hospital, Mobile, Alabama
Sam Eisenstein (Mount Sinai) 2013-2014: UCSD
Michael Polcino (Stony Brook) 2012-2013: St. Barnabas, Bronx, NY
Beth Krieger (Univ South Florida) 2011-2012: Appleton, Wisconsin
Dan Popowich (Northwestern) 2010-2011: Tufts > Mount Sinai > St. Francis (Chief)
Andrea Bafford (BWH) 2009-2010: U Maryland
Sergey Khaitov (Mount Sinai) 2008-2009: Mount Sinai
David Chessin (Mount Sinai) 2007-2008: Mount Sinai, Site Chief, Mount Sinai West
Patricia Sylla (Columbia Presbyterian) 2006-2007: MGH > Mount Sinai, System Chief of the Division of Colon and Rectal Surgery, Director of Clinical Trials for the Department of Surgery, Associate Program Director of the Colorectal Fellowship.
Chris Foglia (BI Deaconess) 2005-2006: Danbury, CT > NY Hospital Queens
Alex (Sanghyun) Kim (Downstate) 2004-2005: Mount Sinai, Site Chief, Mount Sinai Beth Israel and Morningside
Don Summers (Univ St. Louis) 2003-2004: NY Downtown H > St. Louis U
Brian Steckel (Univ Mass) 2002-2003: Albany, NY
Alessandro Fichera (Univ Chicago) 2001-2022: U Chicago > U Washington > UNC (Chief) > Baylor, Houston
Martin Weiser (Univ Chicago) 2000-2001: MSKCC
Alex Ky (Lenox Hill) 1999-2000: Mount Sinai
Toyooki Sonoda (Cleveland Clinic) 1998-1999: NYPH-Cornell > Winthrop Hospital (Chief)
Mount Sinai West/Morningside


Bryce Haac (U Maryland) 2020-2021: Intermountain Health, Salt Lake City, UT
Elie Sutton (Maimonides) 2019-2020: Maimonides Medical Center, Brooklyn, NY
Tianyi Lu (SUNY Buffallo) 2018-2019: Mount Sinai Hospital, New York, NY
Motahar Basam (Howard) 2021-2022: Kaiser Permanente, Los Angeles, CA
Daniel Galante (Sinai Baltimore) 2017-2018: Florida Hospital Center, Orlando, FL
Ritha Belizaire (Univ Cincinnati) 2016-2017: Brooklyn Hospital, Brooklyn, NY > UT Houston
Brett Howe (London Health Sciences) 2015-2016: Windsor Regional Hospital, Ontario, Canada
Ziad Kronfol (Texas Tech) 2014-2015: Texas Tech University, El Paso, TX > Houston Methodist
Hamza Guend (SLR) 2013-2014: Colorectal Oncology Fellowship, MSKCC, New York, NY > TriHealth, Cinncinati, OH
Rebecca Rhee (Baystate) 2012-2013: Maimonides Medical Center, Brooklyn, NY, Associate Program Director of General Surgery Residency
Josef Shehebar (Montefiore) 2011-2012: NYU Lutheran, Brooklyn, NY
Pranat Kumar (NYU) 2010-2011: Private Practice, Poughkeepsie, NY, Program Director of General Surgery Residency
Kevin Holzman (St. Barnabas) 2009-2010: Private Practice, Summit Medical Group, NJ
Lisa Coleman (Army) 2008-2009: Private Practice, Tidewater Physicians, VA
Nipa Gandhi (Montefiore) 2007-2008: SLR, New York, NY > Mount Sinai West, New York, NY, Program Director, Colorectal Fellowship, Icahn School of Medicine
Curriculum
The colorectal curriculum is dedicated to expanding the fellows' knowledge base with the most up-to-date, evidence-based information about colon and rectal surgery. It consists of a basic science conference, invited lectures, Journal Club, GI tumor board, IBD conference, Morbidity and Mortality conference, as well as in-person and online courses and simulation sessions. Robotic surgery lectures and board review sessions are built into the colorectal surgery conference schedule. The fellows are encouraged to use ASCRS U, an on-line educational platform established by the American Society of Colon and Rectal Surgeons, to supplement their education. A list of weekly didactic sessions and available courses/meetings are below:
Monday: GI tumor board, Colorectal Research meeting
Tuesday: IBD conference
Wednesday: M&M conference, Department of Surgery Grand Rounds
Thursday: Colorectal Conference/Journal Club
Friday: GI Endoscopy Conference
Courses: Colorectal Career Course, Intuitive Robotics Fellows Course, Medtronic SNS Course, Advanced Endoscopy Course
Meetings: New York Society of Colon and Rectal Surgery meetings, ASCRS Meeting
Rotations


The academic year is divided into three-month rotations, alternating between the east- and west-side Mount Sinai Health System campuses. A total of six months is spent at The Mount Sinai Hospital and five months are spent at Mount Sinai West and/or Mount Sinai Morningside. While on the MSW/MSM rotation in the spring, the fellows will spend one month at Mount Sinai South Nassau.
Research


Our Division of Colorectal Surgery is actively engaged in clinical research with a research team that currently includes 1-2 research fellows, one research manager and three research coordinators. Students and residents interested in colorectal surgery, along with our colorectal fellows are paired with a research mentor who supervises their research project(s).
IBD: Our Division launched a prospective RedCap-based IBD surgical database in 2018 which has already accrued over 1,500 adult and pediatric patients. A key feature of the database includes collection of functional questionnaires that will evaluate the impact of surgical intervention on patient-centered outcomes. Our surgeons also closely collaborate with the GI IBD division on several therapeutic, interventional and observational trials. In addition, our division has been an active contributor to the IBD-NSQIP database and research projects funded by the Crohn's and Colitis Foundation's Surgical Research Network. The IBD surgery research team holds monthly virtual research meetings.


Colorectal Cancer: Our surgeons are actively engaged in national and institutional therapeutic trials in anal, colon and rectal cancer, and they contribute to biorepository, microbiome, and tumor marker studies. Our surgeons serve as lead Primary Investigators on several multicenter trials, including the SAFE-2 randomized trial of the Colovac device, the ASCRS-sponsored North American phase II trial of taTME for rectal cancer, and the ASCRS-funded multicenter pilot robotic vs taTME trial for low rectal cancer.


Clinical Trials: Our faculty lead and participate in a number of sponsored device trials (surgical stapling, magnetic anastomosis, surgical adhesions and ileus prevention, and intraoperative localization using fluorescence agents, among others).

Regional, national and international collaborations: Our Division is actively engaged in multicenter research collaborations through registry participation (IBD-NSQIP), device trials, investigator-initiated trials in IBD and rectal cancer, and international snapshot collaboratives. Mount Sinai is leading a recently funded ASCRS-sponsored project which is a multi-society, international collaborative to develop a novel framework for reporting and grading anastomotic leak in colorectal surgery (ASCRS, SAGES, EAES, ESCP, ELSA).
Case Logs 2022-2023


| SURGICAL MANAGEMENT | | | |
| --- | --- | --- | --- |
| Anorectal Procedures | Minimum | Fellow 1 | Fellow 2 |
| Hemorrhoidectomy - excisional any kind, PPH | 20 | 49 | 61 |
| - Excisional hemorrhoidectomy | 10 | 47 | 57 |
| Fistula Surgery | 30 | 73 | 81 |
| - Fistulotomy, simple | 0 | 20 | 23 |
| - Fistula management, complex | 10 | 53 | 58 |
| Fecal Incontinence Procedures | 2 | 8 | 8 |
| Internal Sphincterotomy | 2 | 12 | 20 |
| Transanal excision | 10 | 15 | 17 |
| Other (anorectal procedure) | 0 | 75 | 95 |
| Total | 60 | 232 | 282 |
| Abdominal Procedures | | | |
| Segmental colectomy (Include Ileocolic resection) | 50 | 62 | 92 |
| Laparoscopic Resections | 30 | 124 | 144 |
| Low anterior resection (total) | 20 | 53 | 43 |
| Abdominoperineal resection | 5 | 9 | 5 |
| Ileal anal pouch procedures | 5 | 9 | 12 |
| Prolapse repair (total) | 6 | 13 | 15 |
| - Abdominal | 3 | 9 | 10 |
| - Perineal | 3 | 4 | 5 |
| Stomas – total | 20 | 72 | 70 |
| Stoma Complications (Parastomal hernia, stenosis retraction prolapse, fistulas) | 5 | 7 | 5 |
| Total pelvic dissections | 30 | 71 | 58 |
| - Rectal Cancer | 20 | 24 | 20 |
| Other (abdominal procedure) | 0 | 16 | 22 |
| Total | 120 | 195 | 231 |
| Endoscopy/Pelvic Floor | | | |
| Proctoscopy/Anoscopy | 30 | 65 | 109 |
| Colonoscopy (total) | 140 | 142 | 190 |
| - Diagnostic including cold biopsy | 0 | 106 | 153 |
| - With intervention | 30 | 36 | 37 |
| Pelvic Floor Evaluation | 15 | 16 | 17 |
| Other (endoscopy) | 0 | 7 | 1 |
| Total | 185 | 230 | 317 |
| SURGICAL MANAGEMENT TOTAL | 0 | 657 | 830 |
| Diagnoses - Anorectal | | | |
| Anal fissure | 15 | 27 | 33 |
| Anal fistula | 25 | 79 | 66 |
| Hemorrhoids | 15 | 54 | 75 |
| Pelvic floor and functional GI Disorders | 25 | 29 | 28 |
| Other (anorectal diagnosis) | 0 | 201 | 332 |
| Total | 100 | 390 | 534 |
| Diagnoses - Abdominal | | | |
| Carcinoma of the colon | 17 | 48 | 57 |
| Carcinoma of the rectum | 15 | 39 | 32 |
| Crohn's disease | 20 | 28 | 52 |
| Diverticular disease | 20 | 55 | 36 |
| Genetic neoplasia - FAP, Gardner's, HNPCC | 3 | 3 | 4 |
| Prolapse | 10 | 15 | 19 |
| Ulcerative colitis | 15 | 29 | 30 |
| Other (abdominal diagnosis) | 0 | 22 | 13 |
| Total | 100 | 239 | 243 |
| DISEASE MANAGEMENT TOTAL | 200 | 629 | 777 |
How to Apply
We fill all positions using the National Resident Match Program with the Electronic Residency Application Service (ERAS).
Please submit the following items through ERAS no later than September 1 of the year prior to the fellowship's August 1 start date:
Three letters of recommendation (one from your residency program director)
American Board of Surgery In-Training Examination scores
Personal statement
When we receive all application materials, we invite selected applicants for interviews in September and October.
Salary
Our colon and rectal surgery fellowship offers a competitive salary.