If you are an undergraduate student from an underrepresented racial and or ethnic group and an aspiring biomedical scientist or physician-scientist interested in gaining valuable skills and hands-on research experience in preparation for a competitive PhD and MD/PhD program, we encourage you to apply to the Summer Undergraduate Research Program for Underrepresented Scholars (SURP4US) at the Graduate School of Biomedical Sciences (GSBS) at the Icahn School of Medicine at Mount Sinai (ISMMS).
The GSBS at the Icahn School of Medicine at Mount Sinai is committed to supporting the innovative graduate education of tomorrow's future leaders in biomedical sciences in a diverse, inclusive, equitable, and multidisciplinary learning environment. To fulfill this commitment, the GSBS has launched the Summer Undergraduate Research Program for Underrepresented Scholars (SURP4US), which exclusively focuses on recruiting and training students from underrepresented groups in the biomedical sciences.
SURP4US takes place at ISMMS and offers undergraduate students with a strong background in science. Scholars will have the opportunity to conduct intensive research across various disciplines in a vibrant, diverse, and nurturing environment that will prepare them to submit PhD or MD/PHD applications. SURP4US is unique in that, at the culmination of the program, Scholars are evaluated for admission into the ISMMS FlexGrad Program, our early admission pathway into our PhD and MD/PhD programs.
Program Overview
SURP4US runs for ten weeks from June to August. It is a non-degree, non-credit undergraduate experience for juniors or seniors interested in pursuing careers as research scientists (future PhD and MD/PhD graduate applicants only).
Areas of Research and Research Placement
Accepted Scholars are matched with a mentor from the 350+ GSBS training faculty, with a laboratory of interest in Scholars' desired research areas. SURP4US Scholars will spend their summer in the laboratory, engage in supervised research, and participate in cutting-edge projects in one of our PhD multidisciplinary training areas listed below:
The program provides:
Intensive research training in a cutting-edge biomedical laboratory, giving Scholars an insider's perspective into academic life and close mentoring by our faculty members.
Assistance and guidance on the PhD application process, including a series of information sessions and professional development workshops on preparing a competitive PhD or MD/PhD application, one-on-one advisement sessions, and mock interviews with our PhD training faculty.
Full access to seminars, journal clubs, and work-in-progress meetings to enhance Scholars' scientific knowledge on distinct research fields and novel cutting edge-technologies and to introduce Scholars to research-intensive career options and role models for career pathways.
Full access to the school's recreation office, networking opportunities with current students, faculty members, and school administration through social events.
The opportunity to meet with directors of our graduate programs (e.g., PhD and MD/PhD) to discuss and answer questions about their programs.
An opportunity to present the SURP4US research project at a poster session.
An opportunity to apply for the FlexGrad Program, our early admissions pathway into the PhD and MD/PhD programs at ISMMS. Benefits of this program include an expedited interview process and early acceptance into graduate school.
Participation in the Research Seminar Series where Scholars are acquainted with and discuss ongoing and current research conducted by faculty, doctoral students, and guests in the biomedical sciences.
The opportunity to meet with leaders from the Office for Diversity and Inclusion of the Mount Sinai Health System.
Housing and Financing
SURP4US will receive a $5,000 stipend, and housing in ISMMS student residence or housing allowance, depending on availability. Stipend support and allowance are subject to all federal, state, and local taxes.
Program Eligibility
Applicants must meet the following eligibility criteria:
Self-identify as a member of a group underrepresented in graduate programs in biomedical sciences, including Blacks or African Americans, Hispanics or Latinos, American Indians or Alaska Natives, Native Hawaiians, and other Pacific Islanders.
Be currently enrolled in sophomore or junior year at a four-year undergraduate institution in the United States (including US territories).
Have a strong background in science, a passion for research, and a desire to pursue it professionally in a biomedical PhD or MD/PhD program.
How to Apply
The application cycle opens annually on October 1 and closes on January 15 of the following year for enrollment in the following summer. To apply to SURP4US, please complete the online application, and submit the following:
*Official high school transcript
*Official college transcript
Three letters of recommendation. We strongly recommend that at least two letters of recommendation are from someone who knows you very well and can attest to your passion and commitment to research and science. We strongly encourage a recommendation letter(s) from individuals with whom you have had previous research experience and to comment specifically about your research skills and experience.
All applications and recommendation letters are due by January 15, 2023. Applicants will be notified about their application status by mid-February.
*Copies of transcripts are sufficient for the application process. Original transcripts will be requested upon acceptance
Meet the SURP4US Director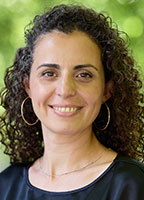 Hala Harony-Nicolas, PhD
Program Director
Associate Professor, Psychiatry and Neuroscience