The Abilities Research Center (ARC) is home to a clinical program that offers innovative and comprehensive therapy for people with neurological disabilities. We incorporate a variety of treatment modalities, including the very latest in rehabilitation technologies. The specific protocols used for each participant are based on both their presentation and personal goals.
The ARC hosts a clinic that offers state-of-the-art neurorehabilitation therapies for individuals who are recovering from spinal cord injury, stroke and traumatic brain injury, as well as other neurological conditions. Studies have shown that using robotic-assisted therapy can lead to significant and meaningful improvements in motor function in people with physical disabilities. Additionally, research has demonstrated significant benefits of non-invasive brain stimulation on pain reduction.
The clinical program offers the latest rehabilitation technologies to improve motor function and reduce neuropathic pain. Because we provide a holistic approach to recovery we are able to individualize the treatment plan of every patient we work with. Each patient has a schedule of therapies tailored to both their immediate needs as well as their long-term recovery plan. Additionally, our clinical services allow researchers to use real-time data collection, which leads us to more scientific discovery through clinical care.
Exoskeleton Walking Training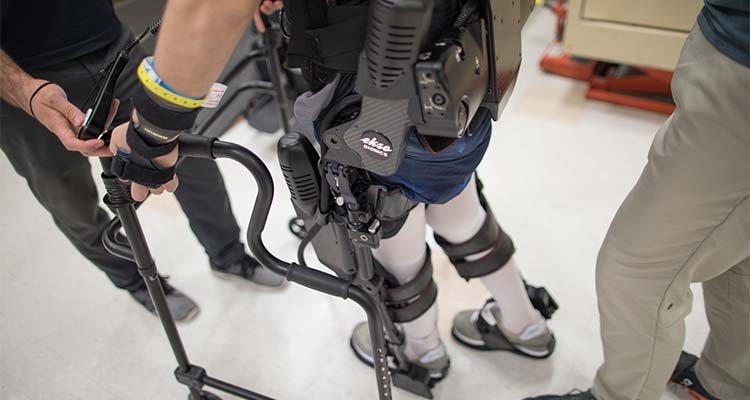 This program focuses on the evaluation and refinement of high-tech, lower-body robotics. These robotics amplify human potential by supporting or enhancing strength, endurance, and mobility across medical and industrial commercial applications. Lower limb robotics provide patients with increased autonomy and easily monitored physical exercise. This program includes powered exoskeletons for standing and walking, upright mobile wheelchairs, and innovative prosthetic and orthotic devices that help users gain increased function and independence.
Non-invasive Brain Stimulation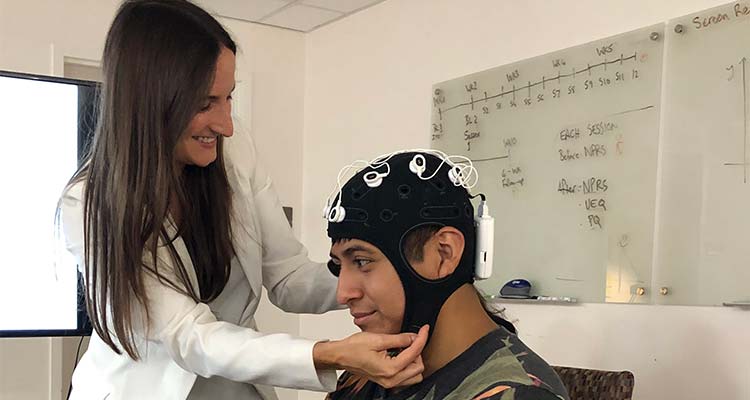 Our program focuses on novel treatments targeting sources of neuropathic pain, aphasia and spasticity associated with functional limitation. The conditions we treat include:
Spinal cord injury
Stroke
Traumatic brain injury
Parkinson's disease
Cancer
In addition, this program identifies and treats psychological factors that can worsen symptoms of pain and reduce therapeutic efficacy.
We use a non-invasive brain stimulation technique that increases or decreases neuronal activity through changes in magnetic fields. It is delivered using a magnetic coil placed over the head that transforms electrical current into a magnetic field. The effects are determined in part by the area of the brain that is stimulated and the frequency used in stimulation.
Upper Limb Robotic Training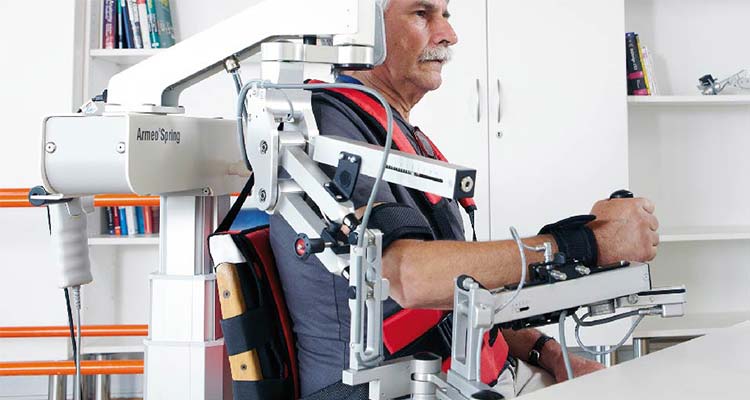 We use robotic upper limb rehabilitation therapy to facilitate and enhance motor recovery by delivering high frequency and intensity training in a highly engaged environment. Robotic devices provide easily measurable benchmarks of motor recovery.
We offer an upper limb robotic program that focuses on restoring movement and function in your shoulder, elbow, forearm, wrist, hand, and fingers. Our goal is to have patients regain muscular strength, joint control, range of motion, flexibility, coordination, and precision. Through repetition, robotic technologies aim to build muscle strength, engage muscle memory, and promote neuroplasticity essential for recovering arm movement and fine motor skills.
Prior to training, patients undergo a clinical, functional, and neurophysiological evaluation, as well as a screening to determine if a caregiver is required to assist the participant during therapy. Every program will be individualized according to the patient's needs. Participation also requires a physician's approval.
The upper limb robotic program consists of intensive therapy performed two or three days per week for six weeks. Participants undergo an extensive clinical, functional, and neurophysiological evaluation prior to training. Prospective participants will be pre-screened to determine if a caregiver is required during the therapy session to assist the participant with this exercise program or self-care needs. A physician's approval is required to participate.
Cognitive Rehabilitation
Our cognitive rehabilitation program focuses on using novel web-based technologies to treat neurological conditions associated with:
Cognitive deficits (attention, orientation, memory, gnosis, executive functions, praxis, language, social cognition, and visuospatial skills)
Limited activities of daily living
Decreased social skills
We use a digital web platform aimed to support and improve neurorehabilitation and cognitive functions. Via compensentary feedback, we create personalized therapies based on individual needs.