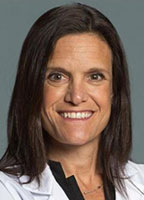 Dr. Blank is the Director of Gynecologic Oncology for the Mount Sinai Health System and a Professor in the Department of Obstetrics, Gynecology, and Reproductive Science at the Icahn School of Medicine at Mount Sinai. Dr. Blank is also Associate Director of the Tisch Cancer Institute, Women's Cancers, and Director of the Women's Cancer Program at the Blavatnik Family Chelsea Medical Center.
She specializes in treating patients with gynecologic cancers, including ovarian, fallopian tube, primary peritoneal, uterine, and cervical cancers, and in caring for those at increased risk of cancer.
"I take care of all aspects of my patients' care---diagnosis, surgery, chemotherapy, targeted and immunotherapy, clinical trials, surveillance, and I provide longitudinal care, meaning I know my patients for a long time." She also teaches medical students, residents, and fellows, mentoring them as they launch their careers.
Dr. Blank is passionate about research and has seen how it can help patients live longer and better. She leads the gynecologic cancer clinical research program, which always has a broad portfolio of trials addressing prevention, treatment, surgery, and quality of life. She has conducted extensive research on topics including genetic predisposition to cancer (BRCA 1 and 2, Lynch syndrome, and others), novel treatment approaches, fertility preservation, survivorship, and quality of life. She collaborates with other researchers in the Tisch Cancer Institute on translational research in fields such as immunotherapy and DNA repair.
"Ultimately, I am a gynecologic oncologist because of the patients, and my goal is for each and every patient to have the very best care though prevention, treatment and survivorship. Through research we move the needle forward and make our patients' lives better."