At the Diabetes, Obesity and Metabolism Institute (DOMI), our expertise complements that of other world-class research at Mount Sinai. The DOMI includes experts in Type 1 diabetes immunology, Type 2 diabetes pathogenesis, neural control of metabolism, genomics and gene regulation, diabetes drug discovery and diabetes medical care, who will serve as a base to recruit additional investigators.
Artificial Pancreas Program
Artificial Pancreas or Closed Loop Insulin Delivery systems have made immense strides in the past few years. Two years ago, the Mount Sinai DOMI imitated the first Artificial Pancreas Program in New York City, and one of only two in large cities in the US. Funded initially by philanthropy, it is now supported by the JDRF and NIH/NIDDK. The program is directed by Dr. Carol Levy, and works in collaboration with Dr. Boris Kovatchev at the University of Virginia and Dr. Wayne Bequette at Renssalear Polytechncal Institute.
Researchers: Carol Levy, David Lam
Pancreatic Beta Cell Regeneration
In 2016 it is clear that both Type 1 and Type 2 Diabetes ultimately result from inadequate numbers of pancreatic beta cells, the cells that sense glucose and secrete insulin. Therefore permanent cure of diabetes requires therapeutic approaches that regenerate, expand, or create de novo new human pancreatic beta cells. The DOMI has a strong focus on discovering approaches to induction of human cadaveric pancreatic beta cell proliferation and expansion, supported by parallel studies in mouse genetic models. The DOMI islet group was the first to demonstrate, in contrast to conventional wisdom, that human cadaveric beta cells can be induced to replicate, both in vitro and in vivo. More recently, we have identified a drug that is able to drive human beta cells to replicate. Designing approaches to effectuate this in humans in a safe and effective manner is one principal goal of the DOMI.
Researchers: Andrew Stewart, Adolfo Garcia-Ocana, Rupangi Vasavada, Donald Scott, Peng Wang, Anil Laxman, Pili Zhang, Juan Carlos Alvarez-Perez
Type 1 Diabetes Auto- and Allo- Immunology
Type 1 diabetes is caused by autoimmune destruction of the pancreatic beta cells in subjects with genetic predisposition to Type 1 diabetes. Therefore, effective treatment of Type 1 diabetes will require not only methods for beta cell production, replacement and/or regeneration, as described above, but also that the abnormal autoimmune destruction of beta cells be reversed once it occurs - or better yet - before beta cells are destroyed. Mount Sinai has an exceptionally strong Immunology Institute, focused on inflammatory bowel disease (Crohn's Disease, Ulcerative Colitis). There is also a strong thyroid autoimmunity group in the Endocrinology Division at Mount Sinai. The Recanati/Miller Transplantation Institute also has an excellent group focused on Transplant Immunology. The DOMI is collaborating with these three excellent groups to develop therapeutic approaches to auto- and allo-immune challenges associated with beta cell regeneration and replacement. The DOMI is also interested in recruiting high level experts in Type 1 Diabetes immunology.
Researchers: Dirk Homann, Sergio Lira, Peter Heeger, Konstantina Alexandropoulos, Brian Brown
Type 1 Diabetes Clinical Trials
Nationally and internationally, we are in an era in which large, multi-center diabetes immune prevention and tolerance clinical trials are constantly in progress. The adult and pediatric endocrinology Divisions at Mount Sinai (Division of Endocrinology, Diabetes and Bone Disease; Pediatrics/Endocrinology and Diabetes) are national leaders in excellent diabetes care. An active initiative in the DOMI is to integrate the Mount Sinai CTSA (Conduits - The Institute for Translational Sciences), the Adult and Pediatric Endocrinology Divisions into large multinational networks performing Type 1 Diabetes Clinical Trials. This is an active area of recruitment for additional senior investigators.
Researchers: Carol Levy, David Lam, Ronald Tamler, Daniel Donovan
Type 2 Diabetes, Bariatric Surgery Clinical trials
Mount Sinai has a large Diabetes Center of Excellence for Clinical Care (Mount Sinai Diabetes Center), and also an outstanding Bariatric Surgery Program (Surgery/Metabolic, Endocrine and Minimally Invasive Surgery Division) for what is now widely acknowledged as the most effective treatment for sustained weight loss and reversal of Type 2 diabetes. This is also an outstanding opportunity to develop an active clinical research program, in conjunction with the Mount Sinai CTSA. Building and recruiting senior investigators into a Type 2 diabetes and bariatric surgery clinical research, in conjunction with the Mount Sinai CTSA (Conduits - The Institute for Translational Sciences), is an active short-term goal of the DOMI.
Researchers: William Inabnet, Carol Levy, Eliza Geer, Ruth Loos, Ronald Tamler, David Lam, Robert Yanigasawa, Daniel Herron, Jeanine Albu, Daniel Donovan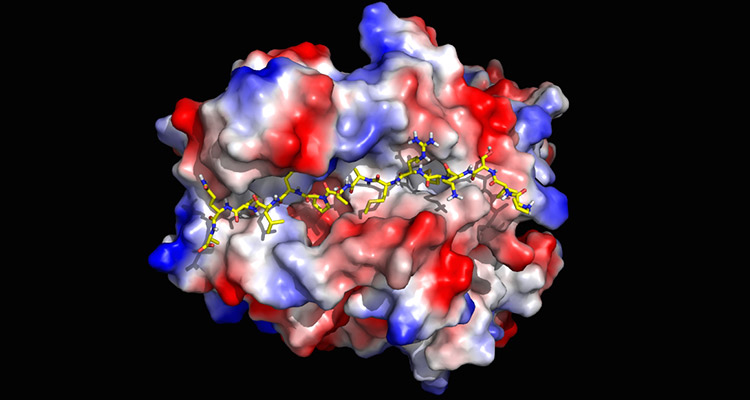 Genetics, Genomics, miRNAs, Epigenetics and Bioinformatics
In 2016, understanding of the causes or both Types 1 and 2 diabetes remain elusive. The DOMI has strong ties with the Icahn Institute of Genomics and Multiscale Biology, directed by Eric Schadt. The two institutes are jointly approaching the challenges of unraveling the genetic and genomic causes of, and approaches to treatment of, all types of diabetes. In addition, the Charles Bronfman Institute for Personalized Medicine has particular interest in the genetics and genomics of diabetic renal complications and the genome-wide associations of obesity. In parallel, the Immunology Institute has expertise and interest in microRNA control of Type 1 Diabetes-associated immunopatholobiology.
Researchers: Andrew Stewart, Eric Schadt, Ruth Loos, Ross Cagan, Donald Scott, Brian Brown, Martin Walsh, Carmen Argmann
CNS Control of Metabolism
Hypothalamic control of appetite/satiety, as well as metabolic rate, insulin sensitivity, insulin secretion have emerged as critical areas in the metabolic syndrome, obesity and Type 2 diabetes. DOMI members are thought leaders in this area as well. We are also interested in recruiting additional senior faculty in this area.
Researchers: Sarah Stanley, Christoph Buettner, Charles Mobbs
Rodent and Lower Species Metabolic Phenotyping
Mice and rats provide irreplaceable models of human Type 1 and Type 2 diabetes and obesity, fatty liver, beta cell failure and expansion, etc. They permit studies that cannot be performed in humans, such as gene knockout models. Multiple investigators in the DOMI have world-class expertise in developing and studying mouse genetic models, rat models as well as drosophila (fruit fly) and zebrafish models of all of the above.
Researchers: Christoph Buettner, Ross Caga, Adolfo Garcia-Ocana, Rupangi Vasavada
Fuel Metabolism, Signal Transduction
Types 1 and 2 diabetes, metabolic syndrome and obesity all have their origins - and ultimate cures - in properly regulated mitochondrial energy use, fat metabolism, and glucose metabolism. These in turn are controlled in the relevant organs - brain, liver, fat cells, skeletal muscle cells, and pancreatic beta cells - by growth factors and nutrients, which then transmit their signals to the nucleus and mitochondria via complex intracellular signaling networks.Understanding these in the organs listed above, their intracellular signaling and metabolic control, is essential to understanding how to prevent and cure diabetes. Fortunately, multiple investigators in the DOMI have world-class expertise in these inter-related areas.
Researchers: Christoph Buettner, Derek LeRoith, Donald Scott, Adolfo Garcia-Ocana, Rupangi Vasavada, Scott Friedman, Emily Gallagher, Jerry Chipuk
Adipocyte Biology and Inflammation
Adipocytes (fat cells) were long thought to be inert storage facilities for fuel, in the form of fat (triglycerides). It is now clear that this was naïve and inaccurate: adipocyes have an enormous range of metabolic activity, and can serve either to store excess fuel, or to burn it and remove it. They also secrete a large number of molecules (adipokines) that can impair insulin signaling in liver and muscle, and insulin secretion by pancreatic beta cells, and thereby lead to the features of metabolic syndrome and Type 2 diabetes. This is a "hot" field in diabetes and obesity, and Mount Sinai investigators are strong in this area. It is also an area in which the DOMI is interested in recruiting additional senior researchers.
Researchers: Christoph Buettner, Ross Cagan, Jerry Chipuk, Donald Scott
Vascular, Renal, Neural Complications
While awaiting ultimate cures for Type 1 and Type 2 diabetes, these diseases continue to ravage affected people with vascular disease (heart attack, peripheral arterial disease and stroke); kidney failure requiring dialysis; blindness; and loss of sensation, loss of muscle control, and chronic pain (neuropathy). The Mount Sinai DOMI is exceptional in that it has thought leaders and advocates for more effective diabetes treatment and prevention, as well as research, in the Cardiovascular Research Institute, the Bronfman Institute for Personalized Medicine, and in the Department of Neurology.
Researchers: Valentin Fuster, Zahi Fayad, Lan Zhou, Cijiang He
Diabetes and Obesity Epidemiology, Public Health, Community Programs
The US spends almost $300 billion annually on diabetes care (the majority) and lost productivity. Diabetes in predicted to affect as many as 30% of children by the time they reach 30 years of age. Clearly, preventing and reversing this "diabesity" epidemic is a national priority. Mount Sinai DOMI researchers are at the forefront of this effort, with public health and community based initiatives driven by the Disease Prevention and Public Health Institute.
Researchers: Phil Landrigan, Carol Horowitz, Ronald Tamler, Robert Rapaport
Human Embryonic Stem / iPS Cell Differentiation to Beta Cells
One ultimate approach to the cure of Type 1 diabetes is pancreatic beta cell replacement through the use of human embryonic stem cells or induced pluripotent stem (iPS) cells induced to differentiate in this direction. Nationally, much progress has been made in this arena, and DOMI investigators interact with leading university and commercial groups working in this area nationally. Fortunately, the DOMI interacts with national and international leaders in stem cell biology based in the Black Family Stem Cell Institute, and are well positioned to combine DOMI's expertise in beta cell regeneration with stem cell approaches developed at Mount Sinai and elsewhere.
Researchers: Thomas Zwaka, Ihor Lemishka, Bruce Gelb
Human Metabolic Imaging
Multimodal imaging is exceptional at Mount Sinai. We are leaders in PET, MRI, NMR spectroscopy, co-registered CT, intravascular ultrasound, with state-of-the-art facilities for all, have helped the Cardiovascular Research Institute and the Department of Radiology achieve national and international prominence in cardiovascular research. For example, the PET facility is participating in trials attempting to image human pancreatic beta cells in diabetes.
Researchers: Zahi Fayad, Eliza Geer, Valentin Fuster
Research Cores
Mount Sinai has a large number of outstanding research cores which exist to support research efforts in multiple institutes and departments. There are too many to described here, but can be reviewed at SRFs MSSM. Example of several with close ties to the DOMI are shown below.
Monoclonal Antibody Core
Mount Sinai has an excellent High Throughput Monoclonal Antibody Development program directed by Thomas Moran, with several active collaborative projects with DOMI members.
Researchers: Thomas Kraus, Dirk Homann, Andrew Stewart
Flow Cytometry/Cell Sorting Core
As noted above, the Immunology Institute at Mount Sinai is exceptional. It contains a Flow Cytometry and Cell Sorting Core which is used my multiple DOMI members.
Researchers: Jordi Ochando, Dirk Homann, Andrew Stewart