The Robin Chemers Neustein Postdoctoral Fellowship award provides an exceptional female, early-career postdoctoral fellow with $25,000 to supplement that postdoctoral fellow's current stipend/salary for one year.
About the Robin Chemers Neustein Award
The Robin Chemers Neustein Postdoctoral Fellowship award was established in 2010 to encourage and support female research scientists at the Icahn School of Medicine at Mount Sinai (ISMMS).
The award facilitates the progress of talented women in the health sciences and encourages women to pursue careers in scientific research. The fellowship is made possible by the generous support of Ms. Neustein, a dedicated advocate for the advancement of women's careers in science. Past recipients of the award have gone on to tremendous success.
Meet Our Previous RCN Fellowship Award Recipients
About Robin Chemers Neustein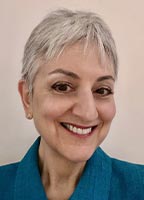 The Robin Chemers Neustein Fellowship reflects Ms. Neustein's own boundary-breaking success as a woman in traditionally male-oriented fields, and her commitment to supporting women dedicated to research science.
Ms. Neustein attended Mount Holyoke College, received her B.A. from Brown University, and a JD/MBA from Northwestern University. She is currently a Senior Director of Goldman Sachs. She joined the firm in 1982, became a General Partner in 1990, and a Senior Director in 2002. She was a member of the firm's Management, Operating and Partnership Committees, the three key governance bodies. She was an investment banker, chaired the Private Equity Group, served as Goldman Sachs' chief of staff through its last decade as a private partnership, and became an Executive Officer when the firm went public. As a Senior Director, Ms. Neustein provides ongoing support to Goldman Sachs as a whole.
Ms. Neustein is the managing member of her family office and a Founding Partner of Circle Financial Group, a peer-to-peer wealth management organization founded by and for women. She is an active investor.
Ms. Neustein is a former member of Mount Sinai's Board of Trustees and was the first Chairman of Mount Sinai's Graduate School Committee where she enthusiastically continues to serve as a member. Ms. Neustein is a Life Trustee of Northwestern University, Trustee Emerita of Mount Holyoke College and Brown University, and President Emerita and Honorary Trustee of American Ballet Theatre. She is a Vice Chairman of Rockefeller University, and a Member of the Management Committee of Weizmann Institute for Science where she also serves on the Executive Board.